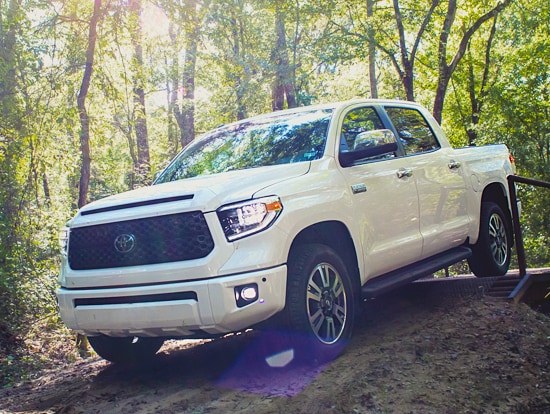 If you need a work truck, choose the new 2019 Toyota Tundra. If you need a camping and recreational truck, choose the new 2019 Toyota Tundra. If you need a truck that can tow, choose the new 2019 Toyota Tundra. If you need a comfortable, daily driver... you get the point! If you need a truck on sale near Shreveport, hurry to
John Harvey Toyota
for our clearance sale on remaining new
2019 Toyota Tundras
.
Voted as
"Edmunds Best Retained Value"
and winner of
"KBB's 5-Year Cost to Own"
, the Toyota Tundra is one of our best sellers!
[1]
See how ridiculously easy we make it to save on a new 2019 Toyota Tundra or any new Toyota you'd want. Here are real reviews from our customers:
"Loving my Toyota Tundra. I have to say this because I want to share my experience with others. I am so happy I purchased this vehicle here (John Harvey Toyota). I have used the service center for every checkup and oil change. I can't say enough how pleased I am with the quality and detail to service they provide. Thank you!"

- Michael V.
"Alfonso Whitaker made the purchase of my Toyota Tundra a much easier experience than I had anticipated. He not only found the truck I wanted but went out of his way to see that it was equipped with the options I desired. It wasn't an easy task but he made it come together. He topped it all off by driving the new truck to my home in Minden and returning to Bossier City with my trade in. Alfonso was personable and professional in all aspects of the purchasing process. My thanks to Al for making the truck purchasing process a pleasing experience."

- Larry R.
"Alister Ambler did an awesome job on finding the vehicle I wanted. He even impressed my husband with the final product, which NEVER happens. There was no pressure to buy, no gimmicks, no added/hidden costs. They even matched the discount I get through my job."

- Valerie M
"Everyone from the salesman to the finance manager were excellent! No high-pressure sales BS. We left several times to compare other makes with no problem. Ask for Norman, he's the best. Thanks for the best price ever!"

- Bruce R.
"Salesman was to the point. I appreciate dealerships that can tell you about the car (features, safety, power, ect) but will let the car sell itself for the most part. Service department has been swift!! Great waiting room with coffee, snacks, iced machine...etc. Never dread coming here!"

- Ms. Austin
What are you waiting for? Visit John Harvey Toyota, near Shreveport, to receive the same great service and clearance savings on remaining new 2019 Toyota Tundras!
Our Toyota dealership, conveniently located in Bossier City, near Shreveport, strives to make driving the Toyota of your dreams an affordable reality. With experts in our finance department ready to help you get approved, there's never been a better time to buy or lease a new 2019 Toyota Tundra! Get it on sale, clearance priced - right now at
John Harvey Toyota
- The Big Toyota Store.